Carmelo Anthony, Kristaps Porzingis and the rest of the New York Knicks will soon become running, shooting, dunking billboards after the National Basketball Association recently approved corporate sponsorship on its jerseys. This new sports marketing trend allows sponsors to raise their brand awareness as they literally become part of the action.
The NBA: Sports Marketing Trendsetters
Beginning in 2017, NBA teams can sell a small sponsorship patch on the front left of their game jerseys. Each team will be responsible for selling their own sponsorship patch, which will measure about 2.5 inches by 2.5 inches. It will be placed in the same prominent spot once adorned by the NBA logo. As part of another new sponsorship deal, Nike's logo will sit on players' right shoulders.
The NBA is the first United States sports league to allow sponsors on its jerseys. However, ads on game day uniforms or clothing are common in other American professional sports, including soccer and golf. The National Football League, Major League Baseball and the National Hockey League have yet to follow suit.
"Jersey sponsorships provide deeper engagement with partners looking to build a unique association with our teams and the additional investment will help grow the game in exciting new ways," NBA Commissioner Adam Silver said in a statement.
These sponsorships are expected to generate $120 million to $150 million in revenue each season of the three-year NBA pilot program. Although the price tag may be high, the benefits of the potential big-game exposure could outweigh the cost.
In American sports, jersey ads are a controversial topic. Sports purists say they can take away from a team's on-field image. Can you imagine an advertisement sewn on top of the New York Yankees' pinstripes?  However, in an era where corporate branding has extended to every stadium in the country, jerseys may be the next, best-available sports marketing real estate.
Worldwide Marketing Trend Arrives in America
Other New York sports teams have been marketing-friendly for some time. The New York Cosmos and the New York Lizards both have long had corporate logos on their uniforms. Jersey ads are also prevalent in sports leagues abroad, including the high-profile English Premier League. However, it remains to be seen if we are witnessing the beginning of a new marketing trend that will catch on.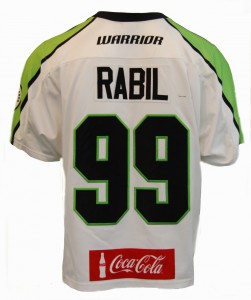 While baseball stadium fences commonly carry ads, the NBA will now put advertisements on the one piece of real estate that is impossible to ignore: the players themselves. Every prime-time basketball game and every highlight reel will prominently feature sponsors' logos.
Could a brand ask for better exposure in the world of sport?